Johnson Controls focuses on Simplicity for Coleman commercial packaged and split system products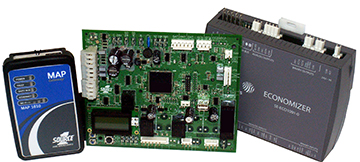 Johnson Controls is bringing Simplicity® Smart Equipment (SE) controls to its Coleman® brand of commercial packaged and split system products. Soon to be standard on all 3- to 40-ton packaged units, the updated Simplicity SE controls make equipment easier to install, operate and service and provide information that ensures a heating, ventilation and air-conditioning (HVAC) system is performing to specifications.
Simplicity SE controls use an easy-to-read, built-in LCD display and navigation joystick to provide quick access to menus that display unit status, options, current function, supply, return and outdoor temperatures, fault codes and other information.
This information ensures a heating, ventilation and air-conditioning (HVAC) system is performing to specifications and provides opportunities to improve system performance, reduce energy costs and improve comfort.
All Simplicity SE controls are factory commissioned, configured and run tested.
For more information, visit the Coleman website at https://www.colemanac.com or view the Simplicity SE Controls video on YouTube at https://ow.ly/C0dcJ.
---
RectorSeal® Desolv™ is HVAC Industry's Safest Coil Cleaner Formulated Specifically for Mini-Split Air Conditioners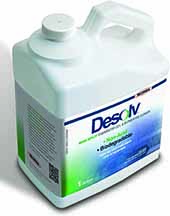 Odorless Desolv™ safely dislodges dirt, mold, films and other contaminants from ductless mini-split coils and blower fan blades, and prevents overflows from drain pan orifice clogs.
The odorless Desolv dislodges dirt, biological contaminants, debris and films within minutes to prevent the inherently small evaporator condensate drain pan orifices from clogs. After a comprehensive two-year testing period on all mini-split brands and models, Desolv is guaranteed to dislodge and dissolve contaminants without harming the aluminum, copper and metal alloys of sensitive evaporator coil tubing, fins and the unit's plastic housing cover.
Desolv is a perfect complement to RectorSeal's full line of ductless mini-split installation and cleaning accessories such as NoKink--kink-free lineset connection; GasGuard and Novent--locking caps for condenser refrigerant access valves; SlimDuct and Fortress--lineset protection duct; ACTabs--drain pan mold prevention; PairCoil--pre-insulated linesets; Aspen Pumps--condensate pumps; and a variety of other accessories for condensate management and equipment mounting.
For additional information, visit www.rectorseal.com
email: marketing@rectorseal.com; or call 800-231-3345.
---
Johnson Controls introduces Wi-Fi®-Capable York® Residential Communicating Control.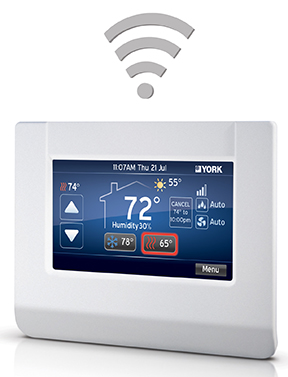 The new Wi-Fi®-capable York® Affinity™ Residential Communicating Control from Johnson Controls, a global multi-industrial company with established core businesses in the automotive, building and energy storage industries, offers an intuitive interface and remote access, which makes installation and troubleshooting routines easy.
The Wi-Fi capability provides homeowners with remote access to the control system from their smartphone or tablet device using the IntelliComfort™ mobile app, allowing them to easily monitor the status of every enabled system device—from the air conditioner to the furnace to the air handler to the heat pump. Contractors can ask homeowners to provide them with access to automated system faults and notification alerts via email.
Homeowners will appreciate the "Quick Heat and Cool" feature which temporarily puts the heating or cooling mode at the highest capacity, as well as multiple schedules and daily events that can be easily programmed to help reduce their utility bills. Zone control is possible for up to six zones, meaning precise comfort levels can be programmed from a single touch screen.
For more information, visit www.yorkhvacdealer.com/Affinity-RCC.
---
Introducing the MicroMAX EDGE from Koch Filter Corporation.
The MicroMAX EDGE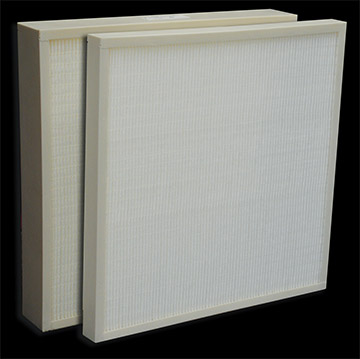 is an all synthetic, durable minipleat panel filter that offers an incredible amount of media area compared to other filters of the same size. The increased media area and high dust holding capacity translates into fewer filter changes.

The MicroMAX EDGE
design allows for lower energy costs as pressure drops remain low for longer periods. The high mechanical efficiency translates into a better level of indoor air quality.

Available in 2" & 4" with 4" single header option.
The MicroMAX EDGE
is designed to replace almost any 12" competitive high efficiency filter.
Find information about our complete line of air filters at www.kochfilter.com.
---
Fuji Electric Introduces New HVAC Inverter for U.S. Market.
Manufacturer Continues Expansion of Drives Product Portfolio.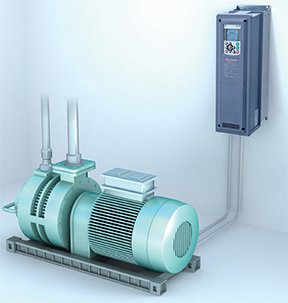 The latest innovation from the global electronics manufacturer features a slim, space-saving design, real-time clock, embedded BACnet, and all other functions required to independently operate fans and pumps in air-conditioning equipment.
"The development of our HVAC Drive was based on a demand from our customers around the world for energy saving inverters with superior fan control," said Sumio Akimatsu, Fuji Electric's Vice President of Components for the Americas. "As with all Fuji Electric products, quality was our primary focus, and FRENIC-HVAC was designed for both UL Type 1 and Type 12 installation environments."
For more information please visit For more information please visit www.americas.fujielectric.com
---
New Magnetic HVAC Strap™ Makes Service Calls Easier, Earns Outstanding Reviews From HVAC Technicians.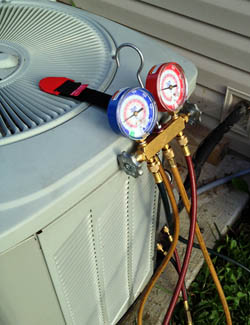 AmiraLin, maker of the new HVAC Strap™ – a magnetic manifold gauge holder – has finally solved a historic problem for air conditioning and refrigeration technicians: trying to hang a manifold gauge by its built-in hook.

Invented by an HVAC technician for HVAC technicians, the new HVAC Strap is constructed from heavy-duty woven material, coated metal (to avoid scratching or damaging the finish of the HVAC unit), plus a powerful magnet. The HVAC Strap attaches quickly and easily to the manifold gauge, and its magnet allows the technician to hang the gauge almost anywhere – wherever it's easiest to be seen.
Benefits of the HVAC Strap include…

• Enhanced safety (no gauges near high voltage, no hook near fan blades, no trip hazard on ground)
• Improved efficiency (put the gauge where it's easiest to see and use)
• Non-damaging to HVAC units (magnet is coated to prevent scratching painted finishes of units)

The product is available to HVAC distributors through a nationwide network of manufacturer's representatives, or on the company's website. For additional information, and to watch a demonstration video of the new magnetic
HVAC Strap, visit the AmiraLin website at hvacstrap.com. Or call the company at
855-729-8428.
---