Southwest HVAC News
Luxaire extends sponsorship of Make-A-Wish into 2014
Three-year, $750,000 commitment helps grant wishes for seriously ill children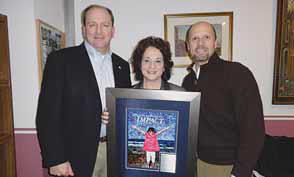 The Luxaire® brand of heating, ventilation and air-conditioning equipment recently renewed its commitment to helping children with life-threatening medical conditions by signing its fourth multi-year contract with Make-A-Wish®. This extends the relationship with the wish-granting organization into 2014 and commits $750,000 in contributions over three years.
Luxaire first embarked on a sponsorship of Make- A-Wish in 2001. Since that time, Luxaire has donated more than $2.4 million to the organization, enough to grant nearly 330 wishes. Last year, 2011 marked the 10-year anniversary of Luxaire's support of Make- A-Wish. To celebrate a "Decade of Wishes Come True," Luxaire brand manager Mary Mocarski and members of her senior leadership team traveled to Luxaire distributor locations to personally thank distributors for their support of Make-A-Wish.
Last year alone, the company sponsored wishes and events with 33 Make-A-Wish chapters across the country. One of these chapters, Make-A-Wish® Wisconsin, recently honored Luxaire's commitment by presenting the foundation's annual recognition plaque to Rodney Rushing, Johnson Controls vice president and general manager, Unitary Products.
Story continues below ↓
---
advertisement | your ad here
---
"The generous support of organizations like Luxaire is critical to our ability to enrich the lives of the courageous children we serve to bring hope, strength and joy to their families," said David A. Williams, president and chief executive officer for Make- A-Wish. "We especially appreciate the relationship we have forged with Luxaire over the past 10 years, and we look forward to building on the success of this program."
"We value the opportunity to participate in the Make-A-Wish program, because it enables us to make a meaningful contribution to the lives of children in the communities where we live and work," said Mocarski. "At the same time, we're able to offer our dealers and distributors a program that truly differentiates them in the market."
For more information about Luxaire's relationship with Make-A-Wish®, visit www.joinluxaire.com. For information about Johnson Controls, visit www.johnsoncontrols.com
###