Southwest HVAC News
ARS/Rescue Rooter Employs Propane Autogas Vans in Houston.
Embraces environmental stewardship with propane autogas fleet vehicles in Houston and Los Angeles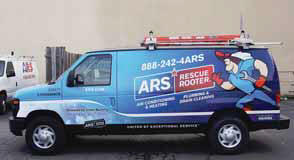 ARS/Rescue Rooter has taken strides to become more green by deploying 21 clean-burning propane autogas cargo and cutaway vans in the Houston and Los Angeles areas. These Ford E-Series vans, powered by ROUSH CleanTech, significantly reduce harmful emissions and carry certification by the California Air Resources Board and the Environmental Protection Agency
"After researching several fuel options, we decided that ROUSH CleanTech propane autogas systems offered the best solution for us," said Mike Baessler, fleet director of ARS/Rescue Rooter.
"We believe this investment will provide longevity to our fleet, in addition to reduced operating costs allowing us to pass the savings on to our customers." "Propane autogas powered vehicles help reduce our country's dependence on foreign oil because 90 percent of U.S. propane supplies are domestic," said Todd Mouw, vice president of sales and marketing at ROUSH CleanTech.
Story continues below ↓
---
advertisement | your ad here
---
"We're proud to develop new technologies that use alternative fuel sources to help fleet operators, such as ARS/ Rescue Rooter, meet their goals of reducing both the operating costs and carbon footprint of their fleet." In addition to reduced maintenance costs and the potential for extended engine life due to its cleanburning properties, propane autogas historically offers a 30- to 40-percent reduction in fuel costs compared to gasoline. When compared with gasoline, vehicles fueled by propane autogas produce:
• 17 to 24 percent less greenhouse gases.

• 20 percent less nitrogen oxide.

• Up to 60 percent less carbon monoxide.
"ARS/Rescue Rooter is committed to providing exceptional service to our customers through a team of thoroughly trained technicians with the experience to do any job right — the first time," said Dave Slott, ARS/ Rescue Rooter president and C.O.O. "These new alternative vehicles allow us to maintain that promise, while being environmentally responsible as well."
ARS/Rescue Rooter plans to purchase 22 more vehicles by year-end, with an additional 100 or more vehicles planned for 2012, spanning multiple markets. There are thousands of propane autogas refueling stations across America, with stations in every state, making this a realistic, cost and environmentally conscious decision for ARS/Rescue Rooter in its Los Angeles and Houston branches and beyond.
The company is growing nationwide, both organically and through acquisitions, with recent acquisitions including: Brothers in Rock Hill, South Carolina, McCarthy Services in Alexandria, Virginia, Conway in Memphis, Beutler HVAC in Sacramento and Dallas-based Efficient Attic Systems.
###